Watch a man in times of adversity to discover what kind of man he is;
for then at last words of truth are drawn from the depths of his heart,
and the mask is torn off.
― Titus Lucretius Carus, De Rerum Natura
In late 15th century Venice, following a thwarted betrothal, a letter, containing a humanist belief on beauty and meant to manage selected would-be suitors, goes astray. The consequences are totally unexpected. Out of the violence of the Balkans and into the life of the reluctant but determined bride-to-be Caterina, comes Rade, a lawless, fate-driven, charismatic Slav. He attempts, through the deception of a lifelike mask meant to hide his scarred face, to enter Caterina's father's world of mercantile wealth. To protect Caterina, her father negotiates a lengthy agreement with Rade. The mask, meant to be a temporary ruse, becomes, of necessity, permanent. To further complicate the situation for Caterina, a new love interest appears. In adventures ranging over the Adriatic Sea, from the Balkans to Fano to Venice, Rade is caught up in a competition of opposites. From fairs to shipwrecks, bull-baiting to rescues, noble house to villa in the Euganean hills, the time arrives when he can no longer continue the deception. In the throes of a desperation he has ceased to control, a choice must be made.
Recipient of Chanticleer's 2017 CHATELAINE Grand Prize for Romantic and Women's Fiction (awarded 2018)
2017
Short-listed for Winner of Historical Fiction Before 1750, Chaucer Award, Chanticleer Reviews
Pre-publication editorial reviews
Leigh Grant explores the ups and downs of a fated romance in Mask of Dreams. It is a story that unravels different aspects of each character like the layers of an onion. Set in a patriarchal society where women have minimal freedom of choice, it explores the mind and heart of a strong woman. Mask of Dreams gives the reader all the experiences of a love story – love, betrayal, jealousy, longing, rejection, separation, reconciliation, compassion. In the end, it makes one think of the true value in relationships, both romantic and familial. - Readers' Favorite 4-star review, Soumya Sreehari
Leigh Grant forges a different ambiance and background in her historical romance, Mask of Dreams. Through an intricate weave of characters, cultural differences, and secrecy, Grant constructs a fascinating storyline. The novel begins with Caterina's thoughtless act, which at her age should have been a factor, but the pride of a man's reputation was on the line. The author gives an in-depth view of her dreams, hopes, and disappointments. When Rade's fate changes, he is brave enough to take hold with an iron fist; his kindness and integrity are seen only by those closest to him. The dynamics between Caterina and Rade clash, keeping the reader absorbed in their drama. Overall, Grant writes with an originality that is spectacular and engaging. The plotline and conflict make this a fascinating novel. - Readers' Favorite 5-star review by Peggy Jo Wipf 
I'm impressed with these characters, particularly Caterina, whose intelligence and power are apparent in the ways she exploits the patriarchal system and works within in its confines to shape her own destiny. Her love story with Rade is exciting and believable, and forms a high point of the novel. Grant is clearly well-versed in Renaissance Italy, and her passion for the time and place, particularly Venice, radiates from the page." - Feedback from an editor.
Reading Mask of Dreams is a unique experience. You have a stubborn yet very intelligent female lead in Caterina and a spontaneous yet adventurous male lead in Rade. The two of them come from very different backgrounds yet they are very similar to each other. They truly complement each other and fit together perfectly. Masks and hidden identities play an important role in this novel. The story is descriptive without being annoyingly long, which means the descriptions are helpful and entertaining to read. While the pace of the story is great, it is the descriptions that bind the story together for me. They are so vivid that I can easily imagine living in the pages with Caterina. Author Leigh Grant explains sounds and images in such a glorious way that I believe no reader will have trouble forming a connection with the characters and falling in love with the narrative. You can tell Grant put a lot of thought into each moment of the story and I love that. - Readers' Favorite 5-star review by Rabia Tanveer
Pre-publication Readers' Reviews
Wow! What an achievement--in the writing, the research, the narrative, the dialogue, EVERYTHING!!  I am so impressed with "MASK OF DREAMS." Really, Leigh, I am dazzled at what you have accomplished. - Pat (N.Y. Times Travel Writer)
Read the book and loved it. Couldn't put it down. -  Roberta
Yikes! You need a publisher!! It's unbelievable.
Well, sadly, I finished your book. I wanted it to go on and on. I loved the ending! - Heidi
I just finished your book. I felt compelled to write to you myself to tell you how wonderful it was! It is one of the best novels I have read in many years. You are so articulate and thoughtful while simultaneously weaving an exciting page-turner. - Bob
Wonderful to see the characters grow and/or be revealed to the reader, showing empathy and humor and depth. Their love often shown through subtle hints or through the eyes of other characters. The unfolding of who they are vs what they seem, and then who they Really are deep down …… told wonderfully and very gripping to the end. - Anne
AMAZING EGYPT POP-O-RAMA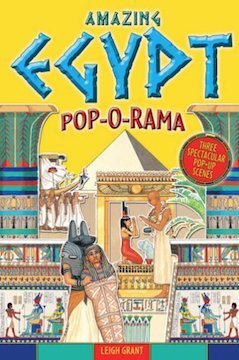 An Egyptian extravaganza of panoramic proportions! These highly detailed pop-up scenes allow readers to explore the building of pyramids and magnificent temples, and life on the River Nile. With timeline and information on the back of each pop.
Book folds out into a very large 3 panelled scene of Egypt with plenty of information about Egyptian history on the back. Great for school projects although text more suitable for older children as v. detailed. We found it useful as a visual aid for school Egyptian topic just to get a feeling for Egyptian life and the immense scale of their buildings.
ROME: A FOLD-OUT HISTORY OF THE ANCIENT CIVILIZATION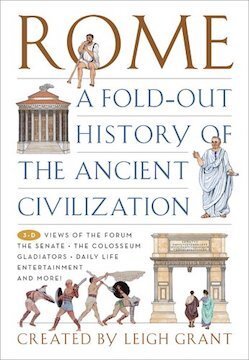 Experience Rome in all its glory through this entertaining and informative 3-D replica of the humming city center of ancient civilization. Standing over a foot tall and more than four feet long, Rome easily unfolds on a tabletop to depict nearly every aspect of Roman life in a series of dramatic and detailed scenes.
It's all here, including the forum with its temples, senate house, and courts of law; the colosseum where gladiators fight for their lives and crowds cheer and jeer them; and the hustle and bustle of the street, including apartments and shops, merchants plying their wares, jugglers and acrobats entertaining the crowd, and two-horse chariots racing over newly–built Roman roads.
The book is laid out accordion-style, with six panels on the front folding out into full-color scenes. On the back of each panel, lively, informative text describes the functions of the buildings, the rules of the colosseum, the life of a gladiator, the class structure of Roman society, and much more. The book also includes a complete time line of the important events in the history of ancient Rome.
THE TWELVE DAYS OF CHRISTMAS: A CELEBRATION AND HISTORY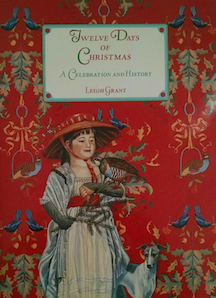 Few Christmas songs are as well known, well loved, or more often sung than The 12 Days of Christmas. We know all the verses, but we don't know the origins of meanings of these 12 seemingly simple rhymes. Grant has traced the history of the Christmas celebrations evoked in the song all the way back to their ancient and medieval roots. Accompanying her charming full-color paintings are brief riddle-rhymes that hint at the other meanings of the verses and the scenes depicted. Following are delightful texts that explain the old traditions of year-end celebrations, some of them dating back to Greek and Roman times.
Steven Dohanos Award for Our Own Show 1995
Book of the Month Club selection
Appearance on the Christmas Today Show with Katie Couric
KIRKUS REVIEW
An enlightening rendition of the holiday song, enhanced by generous historical notes and elaborate, festive illustrations. Grant (Clyde Robert Bulla's The Shoeshine Girl, 1989, etc.) traces the lyrics, first published in England in 1780, to a much-older memory-and-forfeits game played for centuries in several countries. Here she gives them an 18th-century setting: The six avian gifts (the five gold rings, she suggests, are ring-necked pheasants) are arrayed against carved furniture and large tapestries; the people, in period dress, celebrate in a palatial country house or around a solstice bonfire. Grant follows the song with often-startling explorations of each verse's meaning and historical background--the birds as fertility symbols, customs and food, the pagan origins of wassailing--that will have readers looking at both the song and the holiday with new eyes. There's no musical arrangement (then again, who will need one?). Other versions of the song abound, but this may well supersede them all. (Picture book/folklore. 9+)